Kansas City Electronics Recycling
Did you know that Kansas generates over 500,000 PCs and other e-wastes each year? Kansas City electronic recycling entails the dismantling of e-waste elements and materials. It includes obsolete electronic equipment such as Personal Computers (PCs), central processing units (CPUs), monitors, and cathode ray tubes (CRTs).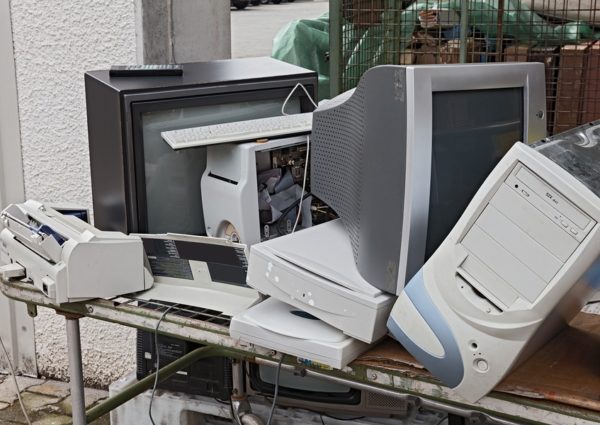 Benefits of Kansas City e-Cycle
Electronics recycling facilitates the re-usage of old electronics hence conserving natural resources.
It allows low-income families to purchase affordable refurbished products.
Investors establish new e-recycling firms that create job opportunities for many people.
Recycling electronics prevents hazardous substances such as lead and mercury from negatively nearby communities.
E-cycling helps in avoiding the occurrence of numerous landfills.
Online auctions facilitate the sale of obsolete and used electronic equipment.
Kansas City Electronic Recycling Services
At Secure e-Cycle, we offer the following services.
Kansas City e-Cycling
Our secure recycling services involve donating, redistributing, and reusing electronic items until their life cycle ends. The items are then recycled until they can't be used further. e-Cycling aids in reducing the number of electronic components which are discarded whenever users buy new parts.
The U.S. Environmental Protection Agency (EPA) initiated e-Cycling. It donates, reuses, and shreds a variety of electronics. They include computers, mobile phones, and televisions. e-Cycling facilities have significantly increased due to technology's obsolescence and manufacturers' influence on used and recycled products.
Consumer Recycling
We offer a variety of options such as donating and selling computers to needy people through charity organizations. Besides, we send faulty devices back to their manufacturers. We also get recycling components from various refurbishes.
Kansas City Scrapping
The drastic increase in the price of valuable metals has led to the emergence of many electronics recyclers. When recycling computer parts, we recover metals such as aluminum, copper, gold, lead, and palladium.
During scrapping, we test computers, mobile phones and television sets for repair and reuse. If they are broken, we disintegrate them. We shred other electronics to 100mm pieces and detach their toxic capacitors and batteries. Afterwards, we shred the remaining components to 10mm pieces and pass them through a magnet to eliminate ferrous metals.
We use an eddy current to sort non-ferrous metals by density. Moreover, we dissolve precious metals in acid, sort and smelt them into ingots. We then separate and sell the residual glass or plastic components.
Kansas City Corporate Recycling
Enterprises searching for an efficient method to recycle their computer equipment face a considerable challenge. Some firms opt to sell them or to arrange recycling options with the equipment manufacturers.
We acquire unwanted equipment firm enterprises, format the systems and estimate the products' remaining lifespan. Additionally, we get extra IT hardware from firms. Our firm specializes in protecting critical data and safely disposing of it.  If you are searching for "recycling Kansas City", you have come to the right place.
Why Choose Secure e-Cycle?
Certified experienced technicians
EPA Approved
R2 Certified
We value data security
We are committed to conserving the environment
If you are looking for a reliable Kansas City electronic recycling company, you are at the right place. At Secure e-Cycle, we offer affordable and secure e-Cycle services. We have certified electronic experts who are passionate about e-waste management.