​Pleasant Hill Electronic Recycling Solutions
Whether it's a new television or gaming console, the most recent smartphone, or upgraded appliances, new electronic devices replace old ones every year. What do you do with the old or broken electronics? Don't throw them in the trash! Recycle them with Secure E-Cycle, your local Pleasant Hill electronic recycling center!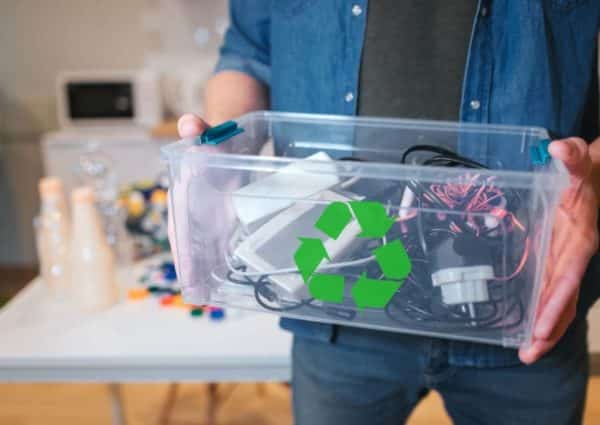 What is Electronic Recycling?
Electronics like televisions, cell phones, computers, media players, microwaves, and other small appliances don't break down in landfills, and they're made up of too many components to be sent to traditional recycling centers. Instead of throwing these items away, find a Pleasant Hill electronic recycling center and properly dispose of old electronics! Secure E-Cycle will evaluate items to determine if parts can be salvaged to reduce waste, and we'll separate materials for recycling or reuse.
What Items Can You Recycle?
You'd be surprised at how much can be recycled! Most items can be taken as-is, making it convenient and easy to get rid of old electronic equipment. You'll clear up some space, and help benefit the environment at the same time!
Common items include:
Televisions
CD/DVD players
Blu-ray players
Home stereos
Cell phones/home phones
Computers
Printers, copiers, and fax machines
Refrigerators
Microwaves
And more!
Wondering if your items can be recycled? Call Secure E-Cycle today and we'll let you know! Together, we can help protect the environment and keep Kansas clean!
How E-Cycling Benefits Everyone
At Secure E-Cycle, we help keep non-biodegradable materials out of Kansas landfills. This reduces waste, and prevents heavy metals from leaching into soil and underground water systems. But electronic recycling isn't just great for the environment, it also helps keep market prices low by providing more resources for reuse. And of course, e-cycling helps you reduce clutter and free up space in your home, office, or storage building. It's a win-win for everybody!
We Can Help You E-Recycle!
At Secure E-Cycle we recycle electronics to help reduce our impact on the environment. You can do your part to keep electronic waste out of Kansas landfills by visiting our Pleasant Hill electronic recycling center today. After all, it's never been easier or more convenient to recycle old devices! Contact us today to learn more!