Warrensburg Electronics Recycling
Choosing a Warrensburg electronics recycling company is easy with Secure e-Cycle. Our team of e-recycling experts understands the importance of safely discarding electronic equipment. Schedule an appointment today! There are hundreds of new electronic devices entering the marketplace each month. Each person feels the need to purchase the latest and greatest edition of computer equipment, phone systems, and even kitchen items, such as refrigerators and more! But what happens as your current electronic items are replaced?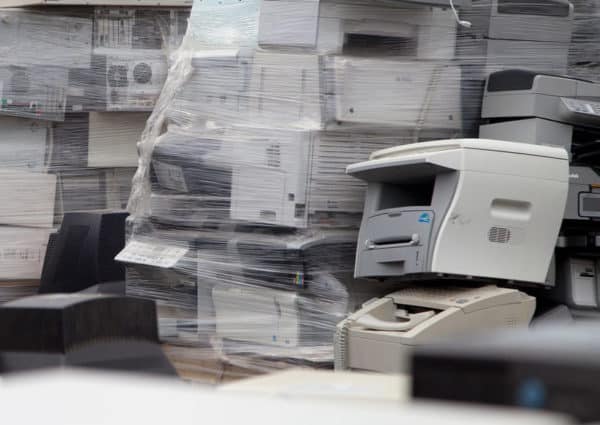 Storing old or unused items at home or in your garage takes up valuable space and can be a burden. Put these items to good use by scheduling a certified electronic recycling service in Warrensburg.
Why Electronics Recycling is a Must
Warrensburg electronics recycling services are on the rise and for many reasons! First and foremost, e-recycling is good for the environment, but it also helps you feel better. By working with a top e-recycling company, you receive relief, by crossing off an item on your to-do list. Additionally, Warrensburg e-recycling provides the following benefits:
More space for Your Home

Eco-Friendly & Recycling Opportunities

An Easy Way to Separate Garbage from Electronics
Warrensburg's Top E-Recycling Company
By utilizing a Warrensburg e-recycling service, you receive an easy way to properly dispose of a wide variety of electronic equipment. Our team is here to provide you with a stress-free and easy experience. Get rid of your unused electronic objects by letting us handle the hard work while you sit back and relax.
Before scheduling your next Warrensburg e-recycling service, please make note that Secure e-Cycle accepts the following items:
TVs

Microwaves

Refrigerators

Home Stereos

CD & DVD Players

Blu-Ray Equipment

Home Phones

Cell Phones

Computers

Printers

Copiers

Fax Machines
Learn more about how Secure e-Cycle can help you meet your electronics recycling needs by freeing up space in your home and putting unused electronic equipment to good use! Schedule a Warrensburg e-recycling service today! Call 913-871-9040