The Leader in Lawrence Electronic Recycling
Not many people realize it, but improperly disposing electronics can lead to harmful damage to the environment. When people have broken or outdated electronics, some will throw them in the middle of the desert or in the regular garbage. Although it may not seem like a huge deal, these products can do some harmful things to our planet. Aside from the harm to our air quality, these machines can start to add up very quickly at waste management centers. In order to create a better environment and contribute to recycling efforts, electronic recycling is a must. If you live in Lawrence, Kansas and you're looking for an electronic disposal company, reach out to Secure e-Cycle today!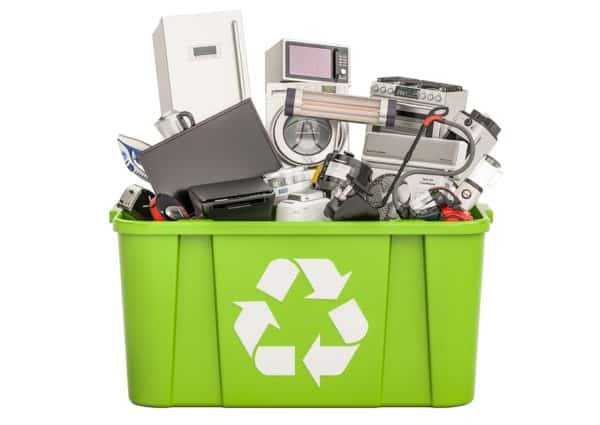 We have an experienced team of e-recycling specialists that are focused on improving the environment. Unlike the other guys, we use safe and effective methods for our electronic recycling efforts and our prices are some of the best in the industry. Call us today to learn more!
What to E-Recycle?
If you think electronic recycling is something you want to be a part of, you should first consider what products you have. To find a list of the products that will be accepted at our e-recycling center, see below:
Computers
Televisions
Home stereos
DVD/CD players
Printers/copiers
Microwaves
Refrigerators
And more!
Luckily, there's a large number of different electronics that qualify for e-recycling. If you're like most people, you have at least a few of these electronics sitting around the house. Rather than leaving these products in your garage collecting dust, you can recycle them to help do some good for the environment. Wondering where to recycle electronics? Take them to our office or schedule a pickup today!
The Many Benefits of Electronic Recycling
Before electronic recycling was established, you would see garbage cans flooded with electronic devices. With the fast emergence of modern technology, many people are deciding to throw out their old cell phones or televisions. Although most of us never realized it, throwing these away improperly causes harm to the environment. On the flip side, leaving these in our homes also poses some harm to the earth. See below for the many benefits of Lawrence electronic recycling:
More eco-friendly
Helps you get rid of stuff
Creates more space in your home
Doesn't overload waste centers with electronics
Creates self-satisfaction
Call Us Today
When we decide to recycle, we feel good about ourselves. Furthermore, electronic recycling allows us to finally get rid of old and bulky electronic equipment. If you're wondering where to recycle electronics, look no further than Secure e-Cycle! Contact us today to schedule a pickup.
Help improve our planet today by contacting us for Lawrence electronic recycling. Make the eco-friendly choice and call us to e-recycle!