Tonganoxie Electronic Recycling Solutions
Do you have unwanted computers, televisions, VCRs, stereos, copiers or fax machines laying around? With the rapid pace of technology, the life cycle of many electronic components keeps getting shorter and shorter, creating more e-waste than ever before. Don't throw your old electronics in the trash! Many computer parts and batteries are terrible for the environment, and throwing them away contributes to our growing pollution problem. Secure E-Cycle is the solution for your Tonganoxie electronic recycling needs!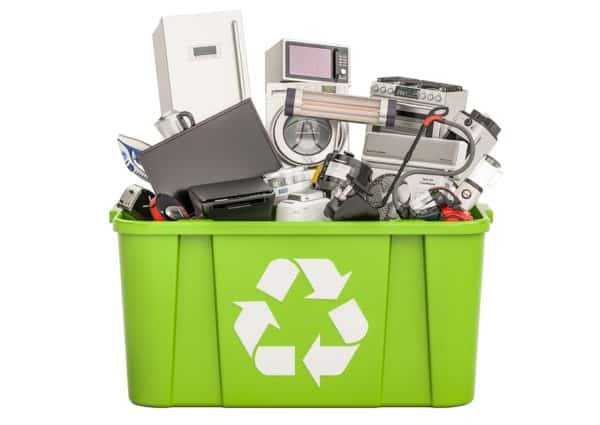 What is Electronic Recycling?
E-cycling is the recycling of used electronic devices that are obsolete, broken, or no longer useful. Old electronics are tested for repair or reuse, and if they are broken we take them apart and shred any remaining components before separating and selling any left over glass or plastic. Devices that still have some life in them are repaired or refurbished and donated to charity, returned to the manufacturer, or resold at steep discounts to the public. Our methods ensure that your data remains secure while almost nothing from your devices end up in a landfill.
What Can Be Recycled?
Secure E-cycle is equipped to safely dispose of most home and office electronics, including:
LED and CRT Televisions
Computers, laptops, and gaming devices
Refrigerators, microwaves, and other household appliances
Cell phones and home phones
Home stereo systems, speakers, and radios
DVD/Blu-ray players
Gaming devices
Batteries, CPUs, and power supplies
Fax machines and copiers
Plus much more!
If you have questions about our process or what kind of materials we accept, give us a call. Our certified technicians are here to help!  913.871.9040
Benefits of E-Recycling
Recycling electronics is good for consumers and it's good for the environment. Reusing electronic and computer components is less costly than producing new ones from scratch, while keeping toxic metals out of Tonganoxie soil and water. In some cases, we're able to refurbish items like keyboards or audio equipment and make them available to low-income families through charitable donations or second-hand sales. Our goal is to ensure as little e-waste ends up in landfills as possible.
We Can Help You E-Recycle!
Secure E-Cycle can safely dispose of your home and office computers, cell phones, batteries, and other electronics. We're passionate about serving the Tonganoxie community and keeping Kansas clean, so contact Secure E-Cycle today for more information or to schedule pickup.
Cookie Policy
We use cookies and other tracking technologies to ensure you get the best experience on our website, assist with navigation, analyze your use of our services, and assist with our promotional and marketing efforts. If you continue without changing your browser settings, you are providing consent to our Cookie Policy. Click here to learn more about our privacy policy.