Top-Notch Olathe Electronic Recycling
Over the years, we all seem to accumulate various electronic devices. From phones and computers to refrigerators and microwaves, the amount of electronic equipment that we buy and use is unbelievable. But with the rise of technology, these electronics aren't going anywhere. But one thing that comes with more electronics are the means to handle the amount of electronics that break down. Before electronic recycling was invented, most people would just throw their old TV or microwave into the trash. But with the important emergence of electronic recycling, throwing that equipment in the normal trash is no more!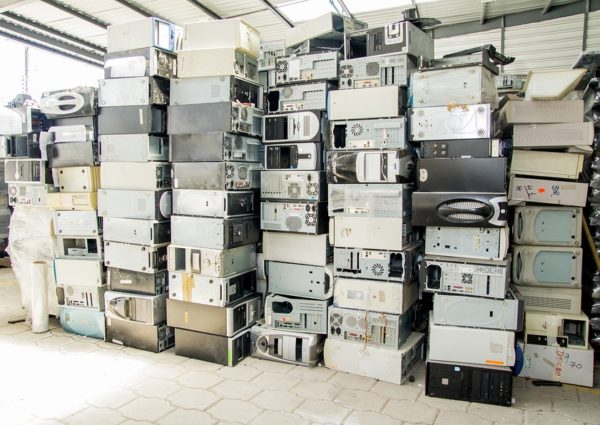 What is Electronic Recycling?
Electronic recycling involves the process of properly disposing broken televisions, stereos, CD players, DVD players, microwaves, and more. Instead of throwing these products in the normal garbage can, there are electronic recycling centers that will take your electronic equipment and properly dispose it for you! Since there are millions of electronics that are thrown out each and every year, a lot of them still have usable parts and some might even still be working. The process of electronic recycling works to eliminate the unneeded waste of these precious products while doing good for the environment.
What Electronics Qualify?
Although it's good that you want to recycle every electronic component you don't use anymore, there are certain products that can't be e-recycled. Here is a list of the electronics to take to your nearest e-recycle center:
Televisions
Computers
Computer parts like keyboards and printers
Refrigerators
Microwaves
Blu-ray/DVD players
Home stereos
Cell phones and home phones
And more!
Not only can recycling these electronics make you feel good about yourself, you'll also be finally getting rid of those electronics that have sitting around for years. If you can't determine what you can and can't e-recycle, give Secure e-Cycle a call today! We are proud to offer Olathe electronic recycling services and have a dedicated team focused on answering all of your questions.
Benefits
From old and outdated TVs to that old stereo that's been sitting in your garage for decades, most of us have electronics sitting around the house. Now is the perfect time to call Secure e-Cycle for electronic recycling service! By recycling your electronics, you can reap the following benefits:
Less harm to the environment
Making space in your home
Finally getting rid of old products
Greater self-satisfaction
Creates more recycling resources
Call Us Today
From questions about our e-recycling process to scheduling an appointment, our experienced team is standing by to help. Call us today and you'll see why we're the number one Olathe electronic recycling provider!
Looking for Olathe electronic recycling service? Secure e-Cycle can help! From TVs to microwaves, we'll dispose of your electronics properly. Call us today!