Topeka Electronic Recycling Solutions
Modern electronic devices contain multiple pieces and parts that are unsuitable for a landfill, yet electronic waste, or e-waste, is one of the fastest growing segments of solid waste management. Unfortunately, many devices contain heavy metals that can contaminate the environment by leaching into soil and groundwater reserves, and bulky electronics can be a hassle to dispose of properly. Secure E-Cycle serves the Topeka region by providing complete electronic recycling that protects you and the environment while ensuring no material enters the landfill.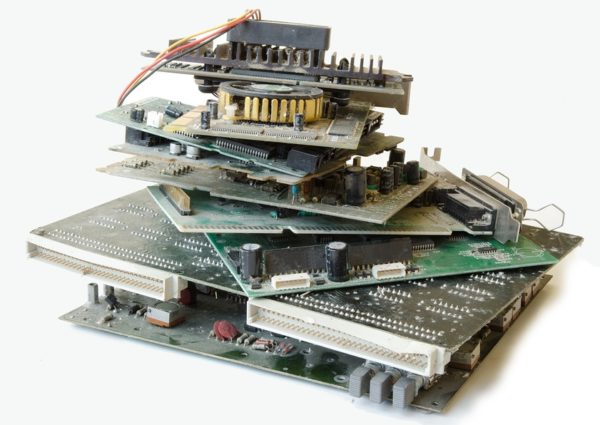 What is Electronic Recycling?
Electronic Recycling is the practice of refurbishing, recycling, donating, or redistributing computers and electronic equipment rather than discarding them at the end of their life cycle. Items are inspected and sorted before being reused or broken down into parts, allowing Secure E-Cycle to offer a 100% no-landfill solution.
Did you know that some obsolete or broken electronic devices can still contain personal data such as credit card information or banking transactions that could potentially be extracted and used for stealing your identity? At Secure E-Cycle, our process ensures your data is safely erased before being donated, reused, or shredded.
What Items Can You Recycle?
Most home and business electronic equipment can be recycled at Secure E-Cycle, whether it's in working condition or not.
Acceptable items include:
LED and CRT Televisions
Computers and laptops
Keyboards and monitors
Fax machines, printers, and copiers
Refrigerators, microwaves, and other household appliances
Batteries and power supplies
Gaming consoles
Stereos and other audio/visual equipment
Cell phones and home phones
And much more!
We're ready to schedule a pickup or answer any questions about the items we accept, so give us a call today. Our experienced technicians are here to help protect your sensitive data and keep Topeka cleaner!
How E-Recycling Benefits Everyone
In addition to keeping harmful metals out of groundwater and soil, Topeka e-recycling can prevent the mining of additional metals, and provide more resources for recycling efforts. Items that can be repaired are often donated or sold at steep discounts to charitable organizations that help needy families, which benefits our Topeka community as a whole. Safely recycling your old electronics means there's more room in the environment, plus more room in your home!
We Can Help You E-Recycle!
Our certified experts are committed to conserving the environment while protecting your personal and financial information. Contact us today to learn how Secure E-Cycle can best serve you or your business!