Clay County Electronics Recycling
Finding a certified electronics recycling center in Clay County has never been easier! Secure e-Cycle is the area's top choice for e-recycling needs. Safely discard your electronic equipment by scheduling an appointment today!
The need for electronic equipment continues to increase as newer models with higher capabilities are introduced to the marketplace. Instead of storing your old or unused products at home in your garage, choose our electronic recycling service! Secure e-Cycle is here to help you retire your electronic equipment whether broken or no longer useful to those that would find them valuable. It is highly recommended to recycle your electronics, whether an old GameBoy or broken TV.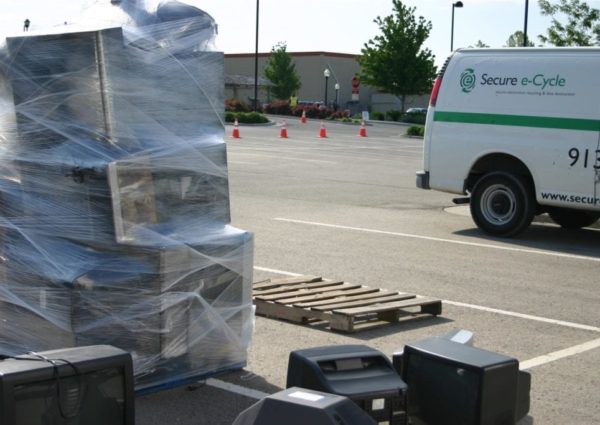 Why Choose Electronics Recycling?
Clay County electronics recycling has many benefits! Getting rid of old electronic equipment often lifts a burden from your long list of things to do. There are many hoops you must jump through to get rid of certain items, but with e-recycling, it is easy. Many residents choose Secure e-Cycle for its Clay County e-recycling because it provides:
More space for Your Home
Eco-Friendly & Recycling Opportunities
An Easy Way to Separate Garbage from Electronics
Clay County's Top E-Recycling Company
Properly disposing a wide variety of electronic equipment is a key factor to helping the environment and abiding by the law. Our electronics recycling company is here to help you. When getting rid of your unused objects, you will receive an easy and stress-free experience! Let our team handle the hard work, and you can sit back and relax.
While not all electronics can be recycled, Secure e-Cycle accepts the following items:
TVs
Microwaves
Refrigerators
Home Stereos
CD & DVD Players
Blu-Ray Equipment
Home Phones & Cell Phones
Computers & Computer Equipment, like Printers, Copiers & Fax Machines
Free up space in your home and put your old electronic equipment to good use. Schedule a Clay County e-recycling service by calling Secure e-Cycle today!  913-871-9040