e-Waste Recycling
Because of their electronic components, computers and other electronics cannot simply be thrown away. Chemicals stored in these IT devices can leak into the ground, causing a threat to the environment and individuals in the surrounding area. We do not see these consequences because most of the time desktops, laptops, computer monitors, servers, printers, cell phones, peripherals, and cabling are disposed in developing countries. The Environmental Protection Agency has recognized e-waste as a top priority among other issues, like climate change.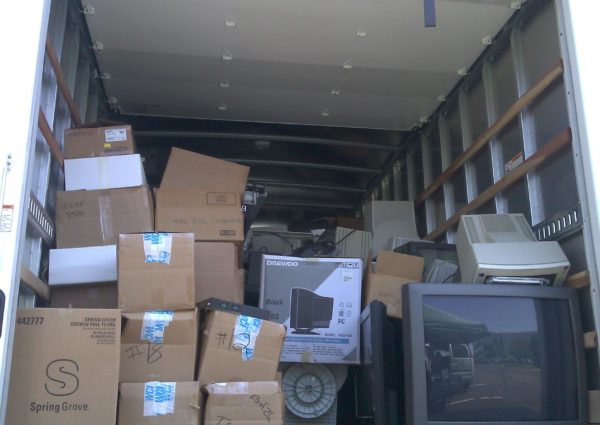 Secure e-Cycle practices environmentally friendly techniques when disposing all types of electronic and IT devices. We use a 100% No Landfill Policy, ensuring all materials are recycled and not deposited in a junkyard. Our company strongly believes in protecting the environment while also protecting your information security. As Kansas's top-quality e-waste recycling company, Secure e-Cycle betters the environment with sustainable practices every day. Our recycling partner is R2 and ISO certified, validating our dedication to quality and safety in the electronics refurbishing and recycling industry.
Along with being eco-friendly, we also strive to provide you with the best services possible. Therefore, we provide a "Certificate of Destruction" and "Continuity of Ownership" which specifies the disposition of each device we handle. It is our job to make sure you receive quality assistance with your electronics recycling.
This is why we use only the best certified recycling partner in the industry. A R2 certification recognizes industries for their compliance to responsible electronic waste. ISO certifications are given to companies who focus on quality and customer satisfaction through defined and reviewed processes or procedures. Secure e-Cycle is proud to to use a recycling partner with both a R2 and ISO certification. If you are interested in learning more about our certified partner, feel free to call our office at (913) 871-9040 for more details.
When you decide to buy a new laptop, computer, or office accessory, make sure to recycle your old device. Throwing away old devices harms the environment. Most computer components are not biodegradable, thus take up space that could be used for farming. In addition, chemicals from these devices can poison the ground they are buried in, and are not safe if leaked into your water supply.
Save the environment, and let the professionals at Secure e-Cycle handle your secure electronics recycling with our eco-friendly, e-waste recycling techniques.