Blue Springs Electronic Recycling Solutions
Looking to toss that old computer? Still have an old CRT television lying around? Outdated or broken electronics can pile up fast. Don't set them out with the trash! Electronic recycling is great for the environment and great for Blue Springs, Kansas! Whether you're cleaning out a closet, or updating your business office equipment, Secure E-Cycle can handle all your electronic recycling needs!
What is Electronic Recycling? Many electronic devices have chemicals and heavy metals that can contaminate the environment if disposed of in a traditional landfill. From batteries to computer chips, there are a lot of parts that can be broken down and reused or recycled.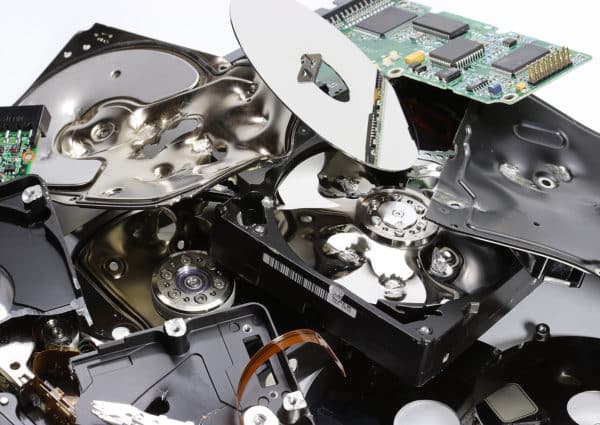 Old electronics are tested for repair or reuse, and if they are broken we take them apart and shred any remaining components before separating out any remaining glass or plastic. Devices that still have some life in them can be repaired or refurbished and donated to charity, returned to the manufacturer, or resold at steep discounts to the public. Our methods ensure that your data remains secure while almost nothing from your devices end up in the landfill.
What Items Can You Recycle?
Most home and business electronic equipment can be recycled at Secure E-Cycle, whether it's in working condition or not. If you have items you'd like to recycle, contact us today for more information on what we take!
Here is a list of acceptable items:

● LED and CRT Televisions
● Computers
● Gaming consoles
● Refrigerators
● Batteries and Power Supplies
● Microwaves
● Cell phones and home phones
● And much more!
Not sure if we'll accept your items for e-cycling? Call Secure E-Cycle today! Our certified electronics recycling experts are available at your convenience to schedule a pickup or answer any questions. Improve the environment with electronic recycling today! 913-871-9040
How E-Cycling Benefits Everyone
In addition to keeping harmful metals out of Kansas groundwater and soil, e-cycling can prevent the mining of additional metals, and provide more resources for recycling efforts. In some cases, we're able to refurbish items like keyboards or audio equipment and make them available to low-income families through charitable donations or second-hand sales. Our goal is to ensure as little e-waste ends up in landfills as possible. Safely recycling your old electronics means there's more room in the landfill, plus more room in your home!
We Can Help You E-Recycle!
Don't toss your e-waste in the dumpster! You can make an impact on the environment and help your local Blue Springs community by recycling your electronic devices. Contact us today to learn more! 913-871-9040