About Us
We see our customers as invited guests to a party, and we are the hosts. It's our job every day to make every important aspect of the customer experience a little bit better. – Jeff Bezos, Founder Amazon.com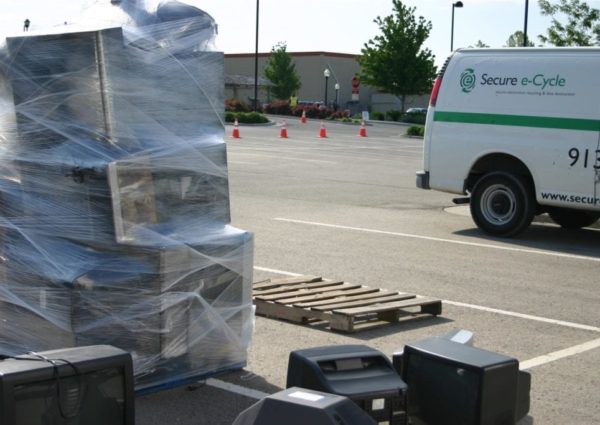 As Kansas City's number one electronics recycling and data destruction company, Secure e-Cycle provides solutions for protecting your digital information and recycling old equipment. We will destroy company and personal data with our eco-friendly "100% No Landfill" procedures. Keeping your information safe and secure is important and we are here to help. We have helped thousands over the past ten years, perfecting the IT and electronic recycling process.
Protecting the environment is one of our main initiatives, and we do so with our four services. We have served the Kansas City area for decades and are the state's most trusted electronics recycling and data destruction business.
Our most common solutions include:
Data Destruction & Removal, including Data Sanitization & Physical Destruction
Responsible E-Waste Recycling
Remarketing & Resale of Surplus Equipment
Detailed Results Reporting
Recently recognized by Global 100 for "Leading the Way" in corporate sustainability programs, we protect your information in an ecological method. The Environmental Protection Agency has labeled E-waste as a top priority, among other issues like climate change. Not disposing your electronic devices correctly poses a serious threat to the environment and the surrounding cities these objects are discarded.
If you are getting rid of old office or personal computer equipment, call Secure e-Cycle. We specialize in properly recycling electronics and hard drive destruction. All items are recycled through our R2 and ISO certified partner. These certifications ensure our services are recognized for their quality and safety to the electronics refurbishing and recycling industry.
It is important to properly discard electronic equipment because they will harm the environment. In addition, improper disposal could leak personal or company information to the world. Keep you, your company, and the environment safe with Secure e-Cycle.
Call today to request an estimate or pick-up. (913) 871-9040