Weston Electronics Recycling Solutions
Today's technological advances are moving fast, and you may be replacing electronics every 2-3 years. For this reason, e-waste is the most rapidly growing segment of the solid waste industry, leading to thousands of discarded computers, televisions, printers, and other electronics. Carelessly tossed aside, these items can contaminate the environment and pile up in landfills. What should you do with old devices taking up room in your home or business? Call Secure E-Cycle! 913.871.9040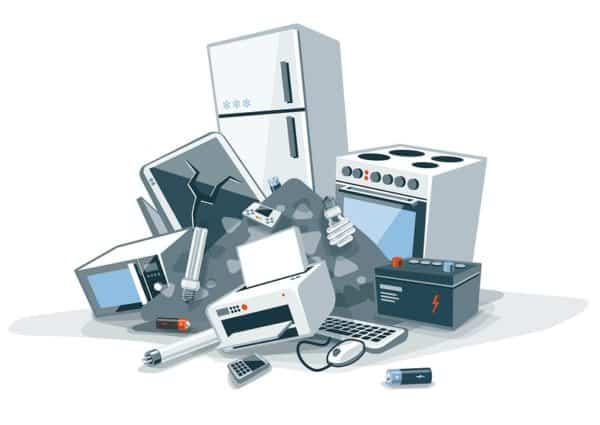 What is Electronics Recycling?
First initiated by U.S. Environmental Protection Agency (EPA), e-cycle facilities donate, repurpose, and shred a variety of electronics. E-cycling encourages people to reduce, reuse and recycle instead of disposing of electronic items in landfills. This keeps toxic metals out of the soil, water, and air while extending the life cycle of items that can be difficult or costly to produce.
Our recycling process ensures your items are securely wiped of data and repaired, sold, or donated for reuse, or have their parts separated for repurposing before shredding any remaining components. A special electrical current is used to sort non-ferrous metals by density, while precious metals are dissolved in acid, sorted, and smelted into ingots. We then separate and sell any residual glass or plastic. In most cases, this enables us to recycle the entire device, meaning nothing ends up in the landfill.
What Qualifies for Weston E-Recycling Services?
Most items with computer parts, batteries, or screens qualify for electronic recycling. If it turns on, chances are we can recycle it.
Secure E-Cycle is available to help you safely discard:
LED and CRT televisions
Computers and laptops
Keyboards, monitors, printers, etc.
Refrigerators, microwaves, and other appliances
Cell phones and home phones
Home stereo systems
CD players
DVD/Blu-ray players
Video game consoles
Fax machines and copiers
And more!
If you have any questions, or if you'd like more information, call or contact Secure E-Cycle, where our experienced and certified technicians will be happy to assist. You can help us keep Weston clean with electronic recycling today!
Benefits of E-Recycling
Recycling electronic waste protects the environment in many ways: it keeps harmful products out of landfills, it reduces our dependence on mining for raw materials, and it saves energy. It keeps our soil, water, and air cleaner. Electronic recycling also protects you. Computers and cell phones may contain important private data that you wouldn't want in the wrong hands. Even non-working or broken devices can have passwords, banking details, or other confidential information that can be extracted. Trust your personal and business information with our secure electronic recycling services.
We Can Help You E-Recycle!
Broken television? Old computer monitor? Don't toss it out! With Secure E-Cycle, you can safely dispose of home and office electronics while benefiting the environment and your Weston community. Call us today to learn more or schedule an appointment for pickup or drop off.