November 21, 2018
Recycling Electronic Waste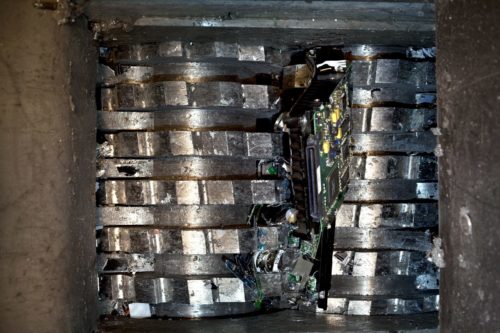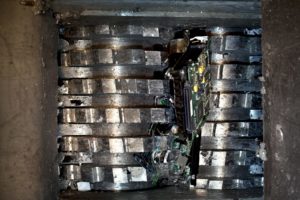 The term E-waste is frequently used when describing electronic waste. The process of recycling E-waste is an important process associated with the reprocessing and reuse of various types of obsolete and/or discarded electronic equipment.
What Products Are Considered For E-waste Recycling?
Common E-wastes products include many things that play an important part in our lives. For example, in our homes, schools, and offices, we frequently have radios, all-in-one computers, TV sets, fans, DVDs, space heaters, photocopy machines, and microwaves. among other things.
In many areas of the country, the local department of sanitation will no longer be allowed to pick up and dispose of these electronic waste items. The careful recycling of electronic waste is now being handled by professional firms such as Secure e-Cycle, located in Kansas City, Ks.
The Importance of Certification
Secure e-Cycle is focused on making sure your personal data is secure. We are NAID (National Association for Information Destruction) certified. Secure e-Cycle is an established resource with a tremendous reputation for providing the best certified electronic recycling services as well as data destruction.
What Is Electronic Waste?
To cite several examples, the following items we accept for the recycling of electronic waste:
Computer accessories and adapters

Cables

Printers and Scanners

All-in-one computers

iPads

Tablets

Cable and satellite receivers

Calculators

Computer Monitors

Camcorders

CD/DV

Blu-ray players

Fax machines

Television sets

Radios
Experienced Leadership
For over 15 years, Secure e-Cycle has excelled at providing electronics recycling and data destruction services to large corporations, small and medium-sized businesses, government agencies, and individuals.
Initially, the founders and employees of Secure e-Cycle acquired a great deal of knowledge and experience as a division of Results Technology. As a result, the leadership team is able to utilize 30+ years of valuable experience in the data destruction and e-recycling industry.
Secure e-Cycle's client base, which has increased over the last 15 years, includes Fortune 500 firms, and small to medium-sized companies, government agencies, and many business consultants. that entrust their need to recycle electronics in Kansas City.
If you have any questions, don't hesitate to call us: (913) 871-9040. We look forward to hearing from you.